Below are some popular examples for your floral applications:
Excel Family
FL3X-LEP
Open Display, Refrigerated
Floral Merchandiser
Isla Family
IM-RF
Self-Service, Refrigerated
Multi-Deck Floral Merchandiser
Q-Series Family
Q3-SS-F
Self-Service, Refrigerated
Merchandiser
Innovator Walk-In Doors
Innovator Walk-In
Cooler/Freezer Door System
E2
Self-Contained, 3-Level
Multi-Deck Merchandiser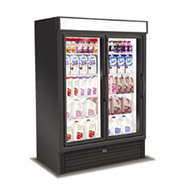 VRM2
Self-Contained, Reach-In,
Bottom Mount, Medium Temp.
2-Door Merchandiser
Want to learn more? Get in touch with us or click the link below to download our flyer!